Afterschool Professionals Week is a time when we can pay special attention to those who work in schools and community-based programs to provide fun, educational, expanded learning opportunities during out-of-school hours. It is estimated that over 10 million children and youth participate in this type of programming every year in the U.S., and it is because of the dedicated men and women who work in these programs that this is possible.
At the Work-Family Connection, we understand that learning doesn't end when the school bell rings. The way your children spend their time outside of the classroom makes a big difference in their personal development and your family-life balance. The Work-Family Connection before and after school programs provide a safe place for children to keep their mind and body active while reinforcing social skills and positive values.
At the heart of The Work-Family Connection, you'll find our dedicated before and after school team. Every day, this fantastic group of professionals makes a difference in the lives of your children. To celebrate our before and after school teams, The Work-Family Connection participates in Afterschool Professionals Appreciation Week. During the last full week in April (April 19-23, 2021), the Work-Family Connection will be devoting time to recognize and appreciate our before and afterschool care staff. This article will give you some different ways to show your appreciation to your afterschool staff.
Let's look at why and how we can say thank you!
Saying thank you to someone we believe deserves our praise and appreciation is an actual show of compassion. The two words — "thank you" – combine into one of the shortest, most powerful statements we can say. Receiving those words from a person we trust can instantly change a difficult day into bliss.
Afterschool Professionals Appreciation Week is a joint effort of community partners, afterschool programs, youth and child development workers, and individuals committed to declaring a whole week of April each year to recognize and appreciate those who work with youth during out-of-school hours. Join us for celebrations and display your appreciation to thank the afterschool professionals who make a difference in young people's lives every day.
WHAT CAN YOU DO
The Work-Family Connection encourages you to join us in thanking the before and after school care professionals in your family's life. To help make a difference in their lives, you may want to consider these thoughtful ideas: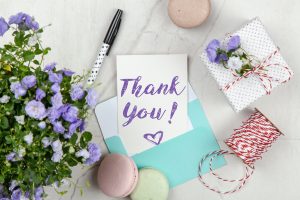 Give a hand-written note from you or your child to the before and after school professionals in your family's life.
Have your child create a simple craft or card for the staff at your child's program.
A banner or yard sign thanking all the before and after school professionals in your family's life.
When picking up your child at the program, decorate or hold/hang a banner from your car thanking your program staff.  
As a reminder, The Work-Family Connection registration for the 2020-2021 school year and 2021 Summer Camp is underway! Register today! For all questions, please email [email protected].